Description

Trípode Smart 360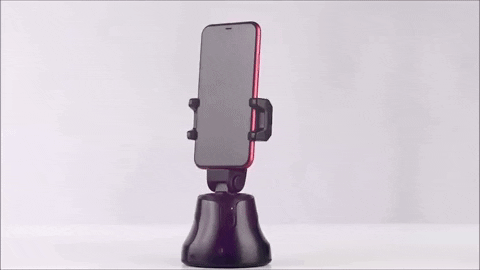 Muestra todas tus aventuras a todo el mundo y SIÉNTETE LIBRE
sin necesidad de estar con las manos ocupadas en el smartphone.

Nuestro trípode Smart Ross 360 con su tecnología de reconocimiento facial y de movimiento te seguirá allá donde vayas.


Perfecto para que puedas compartir tus mejores videos, fotos, stories, directos en tus redes sociales, Instagram, TikTok, Facebook, Youtube.
CARACTERÍSTICAS:
ROTACIÓN COMPLETA DE 360 : innovador sistema de rotación infinita inteligente de 360 que facilita tener las manos libres y poder desplazarte mientras la cámara te va grabando.
COMPATIBLE CON MULTIPLES APPS: Smart Ross 360  se conecta mediante bluetooth y podrás utilizarlo en tus redes sociales (Intagram, TikTok, Facebook). Además, también podrás realizar videollamadas siempre con la cámara frontal de tu móvil.
COMPATIBLE CON iOS Y ANDROID: sistemas iOS 10.0 o superior y Android 8.1 o superior. (iPhone, Samsung, Huawei, Xiaomi, OnePlus, OPPO, Google Pixel, LG, Sony, Motorola...)
SEGUIMIENTO DE PERSONAS, MASCOTAS Y OBJETOS: mediante un sistema avanzado de reconocimiento facial y de movimiento, la cámara te va siguiendo de manera automática donde tú, tu mascota o el objeto que hayas seleccionad se vaya moviendo.
Captura automática de los mejores momentos en movimiento
RECONOCIMIENTO FACIAL: mediante el reconocimiento, la cámara de manera autónoma te seguirá de manera que tu siempre seas el centro de atención apareciendo siempre en la posición central del video o de la foto.
 Siempre serás el centro de atención 
POSICIÓN VERTICAL Y HORIZONTAL: Smart Ross 360 tiene capacidad para ser colocado de manera vertical y horizontal y se adapta a cualquier medida de móvil mediante su sistema de ajuste extensible y plegable.
AHORRO ENERGÉTICO: cubre fácilmente las 50 horas de grabación continuas antes del cambio de baterías, mediante un sistema de ultra ahorro de energía con la tecnología bluetooth 5.0 y un sencillo cambio de baterías (3 pilas).
SOPORTE PARA TRÍPODE ESTANDAR: en la parte inferior se le puede colocar un trípode con enganche de rosca estándar para llevar la creación de fotos y videos a un nivel superior. 
ESPECIFICACIONES:
Nombre: Trípode Smart Ross 360
Peso neto: 185 gramos.
Tamaño del soporte: 9,3x9,3x16,5cm(Largo x Ancho x Alto).
Tamaño de smartphone soportado: entre 4,5 y 6 pulgadas.
Compatibilidad software: iOS 10.0 o posterior y Android 8.1 o posterior (iPhone, Samsung, Huawei, Xioami, OnePlus, Google Pixel, LG, Sony, ZTE...).
Compatibilidad Apss: Instagram, TikTok, Youtube, Facebook, Videollamadas.
Ángulo de rotación mecánica: horizontal 360º grados. Arriba y abajo 37º grados.
Soporte para trípode: de rosca estándar.
Duración: hasta 50h de grabación continua.
Fuente de alimentación: 3 pilas alcalinas estándar No incluidas). 
CONTENIDO DEL PAQUETE:


1 dispositivo de soporte selfi automático 360.
1 manual de instrucciones.
Pago y Seguridad
Your payment information is processed securely. We do not store credit card details nor have access to your credit card information.
productos más vendidos de la semana