Description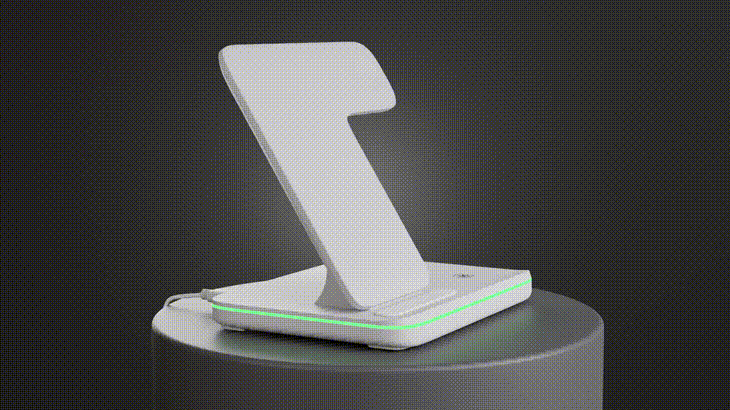 Tres dispositivos, un cable
puede cargar todos sus dispositivos súper rápido ↑, con una potencia total de hasta 25 vatios. Coloque el teléfono inteligente en el soporte de carga inalámbrica, coloque el Apple Watch en el módulo de carga magnético y coloque los AirPods o Buds en la plataforma de carga inalámbrica.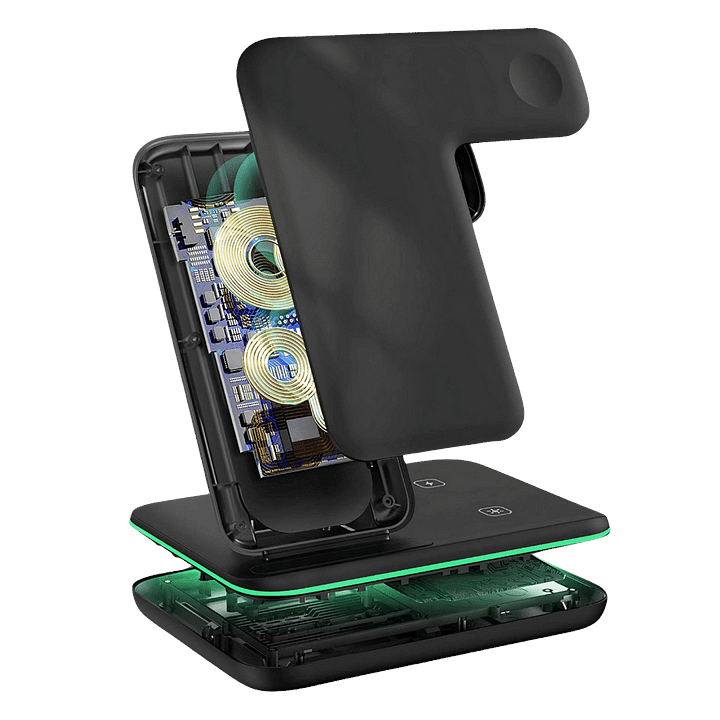 Luz indicadora inteligente
equipada con luces luminosas brillantes.
La luz verde indica el modo de espera. La luz azul indica la mejor carga.
Cuando su dispositivo no esté correctamente cargado, las luces verdes y azules parpadeantes se lo recordarán. Esto puede deberse a la detección de objetos extraños, desalineación u otros errores.
Toque la base del cargador para encender y apagar la luz.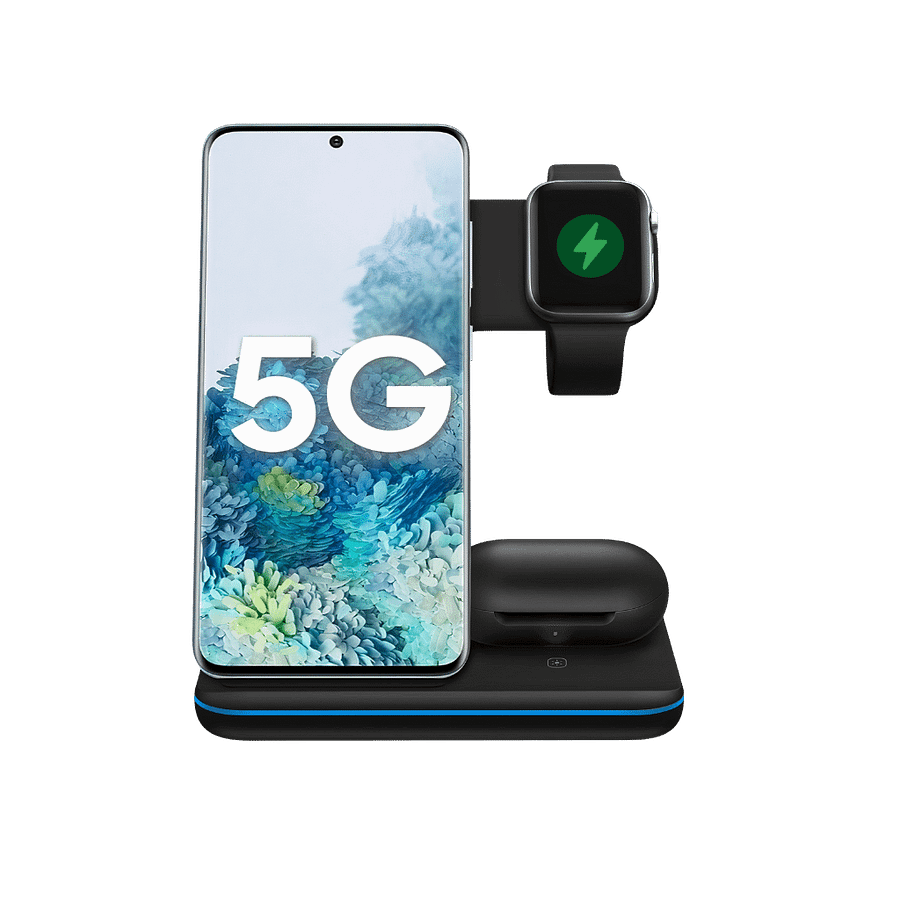 Compatibilidad universal
Diseñamos Evolved Charger ™ Pro para que sea compatible con Qi, lo que le permite cargar todos los dispositivos habilitados para Qi, incluidos Samsung, Apple y muchas otras marcas.
La plataforma de carga es compatible con la funda protectora y se puede cargar a través de la mayoría de las fundas protectoras ligeras, por lo que no es necesario sacar el teléfono de la funda protectora para cargarlo.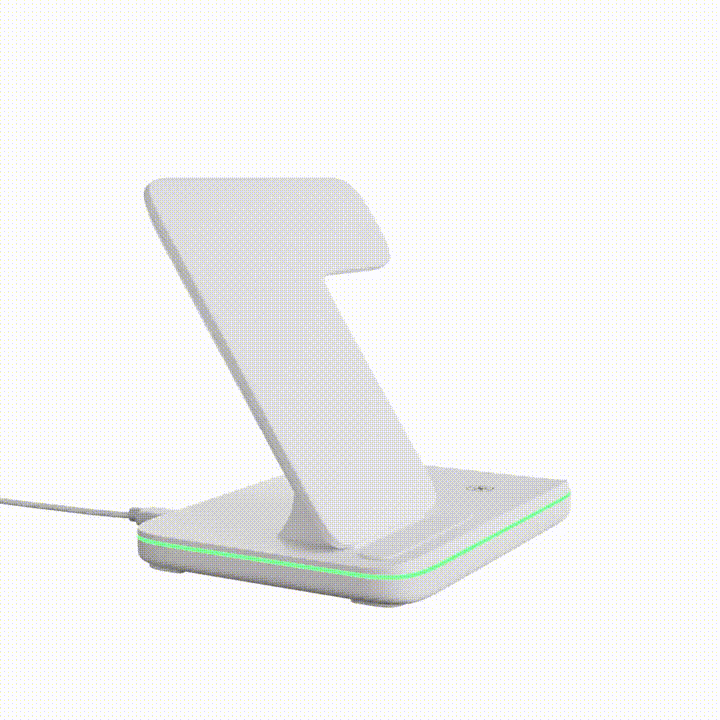 Tecnología de punta
Hemos desarrollado Evolved Charger ™ Pro con componentes de alta eficiencia, lo que le permite cargar su dispositivo súper rápido ↑. En otras palabras, su experiencia de carga será increíble.

¿A salvo? Por supuesto, también proporcionamos funciones de seguridad avanzadas para que no tenga que preocuparse por daños en el dispositivo durante la carga.

Cuando la batería está completamente cargada, el sistema inteligente se apagará, por lo que no se sobrecargará.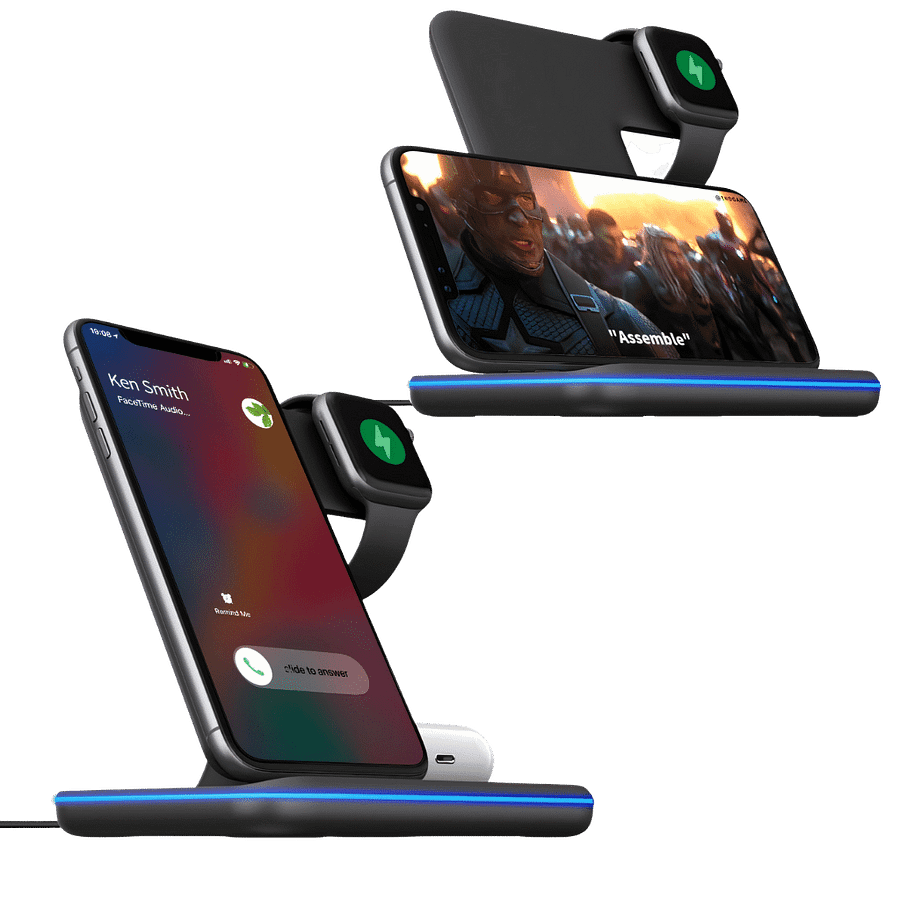 Carga vertical u horizontal
Evolved Charger ™ Pro se puede cargar en cualquier dirección.

Desplácese por el chat en modo vertical o vea videos en modo horizontal mientras se carga.

La base de carga estable con diseño de silicona antideslizante asegura que el cargador esté fijo en su lugar.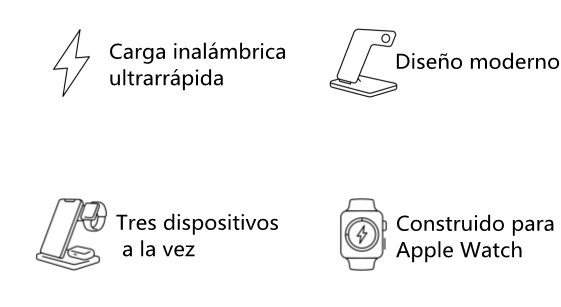 Salida de potencia
Teléfono: 15 vatios / 10 vatios / 7,5 vatios / 5 vatios
Apple Watch: 5 vatios
AirPods / Buds: 5 vatios

Especificaciones técnicas
Entrada: 9V / 2A, 9V / 2.7A o 12V / 2A
Estándar: estándar Qi
Interfaz de entrada: puerto tipo C
Iluminación LED (verde y azul)
Espesor de la carcasa del teléfono móvil: ≤ 4 mm
Protección de seguridad: sobrecalentamiento, sobretensión, sobrecarga y detección de cuerpos extraños
Dimensiones: 150 x 120 x 160 mm
Peso: 300 gramos

Compatible con todos los teléfonos inteligentes, AirPods, Buds y Apple Watch.
iPhone
Reloj de manzana
Apple AirPods
Samsung galaxia
Samsung Bud
otro
Pago y Seguridad
Your payment information is processed securely. We do not store credit card details nor have access to your credit card information.
productos más vendidos de la semana